July 8th, 2008 , This letter may not make sense to anyone but I hae to right it. I was talking to Little Billy yesterday and we were laughing and all was good. Then he said he was going to San Diego next week and I bursted out crying and just said you can't go. Which I know was so unfair to him for me to reactr that way and for that Ihave to tell him am sorry.
I know I can not lock up all the people I love and care about and life does have to go on and must be lived to the fullest. This is what Dustin would want for everyone. But as Dustin's mom I have to plead with each and every one of you to please think of how Dustin died each time you take a drink or get in a car. Be safe think about the choice you make and your family and friends.
I love you Little Billy and I am so sorry I reacted the way I did , I hope you will forgive me. You probably asked Dustin man what do I do with your mom she such a cry baby which he probably replied yeah I know where do you think I got it from. So Dawg I have no advice for you just turn it around and make her laugh because you can not take away the worry.
Dustin and I both have a big caring heart and tears just part of it.
Click on Pictures to Enlarge
I know Dustin had alot of friends other than Little Billy but Little Billy has been the closest one to me for many years and I also know his family. So I see him in a different way. And the thoughts and poems and pictures I put come from my heart and how I see him and Dustin! He is so like Dustin too "Mama I will be by later today" LOL And may be a month down the road. But Dustin always knew his mom would always be there whenever and never put the pressure on him that he must come by. I knew he was a free spirit and loved me . Little Billy also knows the same I am not his mom but someone that loves him!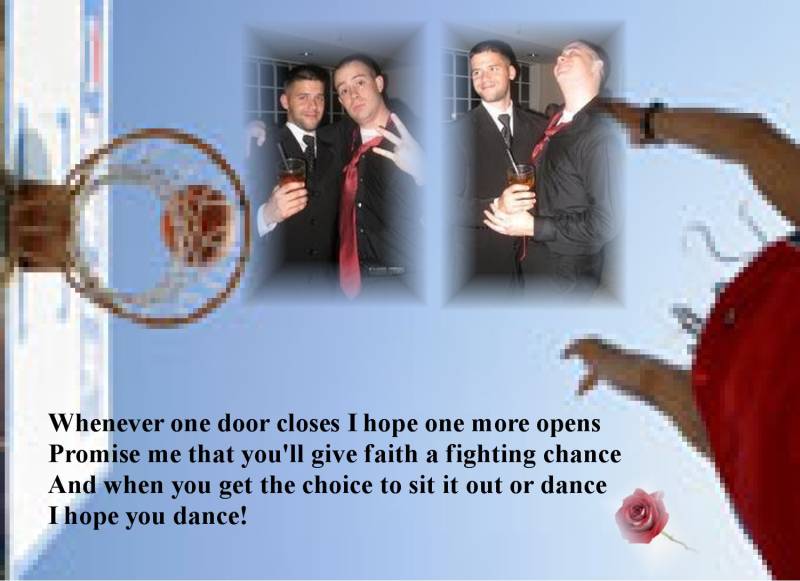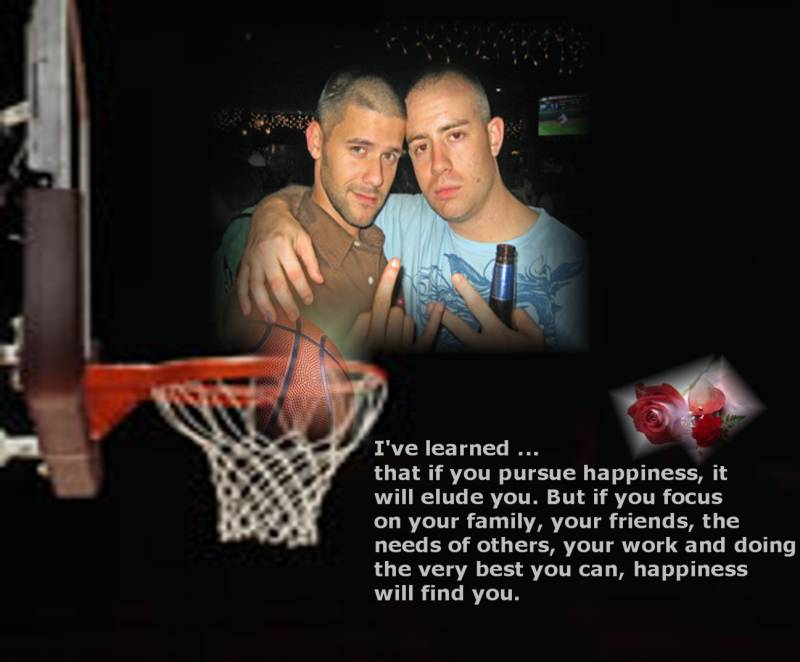 The Heart Of A Friend
The heart of a friend,
Is a place sweet and rare,
To love, to enrich, to enjoy.
Respond if you will,
To it's charm and it's thrill,
While forgetting the cares that annoy.
Yes,
The heart of a friend,
Is the one thing I prize,
As life lengthens and twilight descends.
The last thing I ask,
As I finish my task,
Is to live in
The heart of my friend.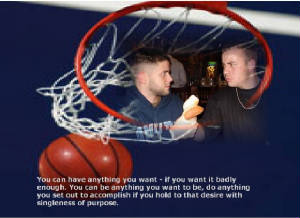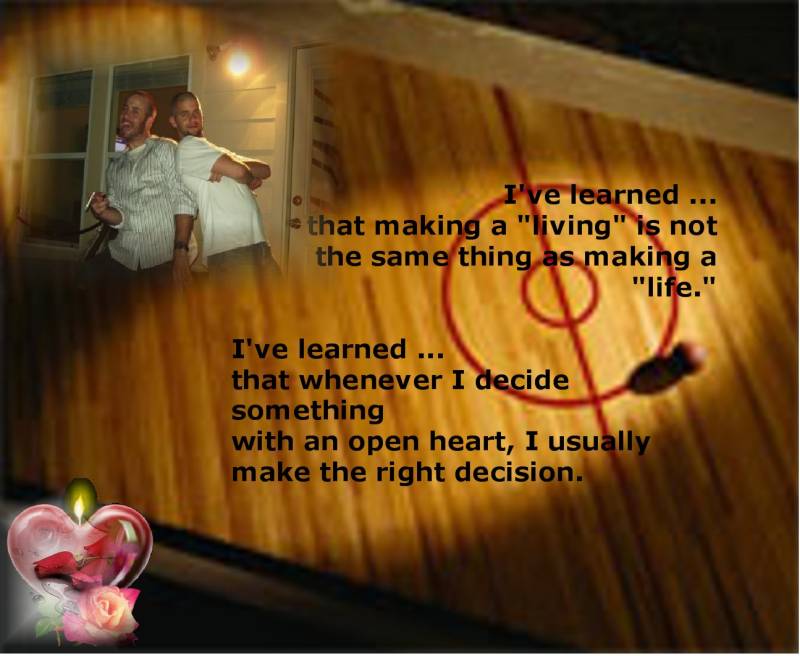 Welcome You Home
While I am gone release me, let me go
I have so many things to see and do
You mustn't tie yourself with tears
Be happy that we had so many beautiful years
I gave to you my love
You can only guess how much you gave me in happiness
I thank you for the love you each have shown
But now its time I've traveled alone
To grieve for me awhile if grieve you must
Then let your grief be comforted by trust
It's only awhile that we must part
To bless the memories within your heart
I won't be far away, for life goes on
For if you need me, call, and I will come through
You cannot see or touch me, but I'll be near
And if you listen with your heart
You'll hear all my love soft and clear
And then when you must come this way alone
I'll greet you with a smile and say
"WELCOME HOME"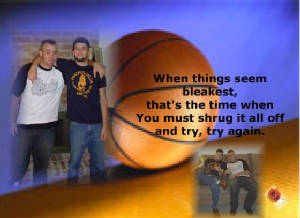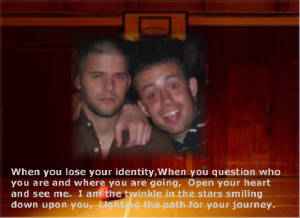 The Star That Shines So Bright!
Look upon the dark of night,
do you see a reflection of light?
Could it be the star that's so
bright, reminds you of a friend that
was there on those dark nights, who
gently dried your tears from sight?
Or the friend, that was there to share a smile
or hug? Never asking, only giving that
special kind of love. A love only a true friend
knows, a love that sets your heart aglow.
I ask you now is this your friend you
hold so dear? A friend that has the
twinkle of a star? Yet is never one to
stray to far. A friend that's in
your heart, always near?
If this is so, when you look upon
the dark of night and see a
twinkle of light, remember that true
friend, the star that shines so bright!
© Carolyn Oakley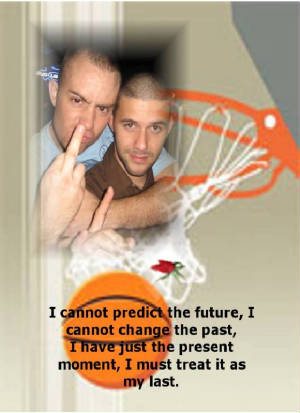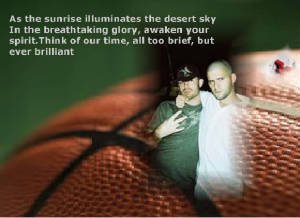 I Give To You
A fire to light inside your heart,
to feel the warm embers glow.
A piece of the sun's warm rays,
to bask in it's fiery show.
I Give To You
A piece of a rainbow to color your
world, when all seems totally gray.
Some roses for the sweet perfume,
to kiss your senses with its bouquet.
I Give To You
A sprinkling of some twinkling
stars, to wish upon at night.
The morning dew to kiss the day.
To bask in it's delight.
I Give To You
A summer's breeze to caress your
face, to show that someone cares.
The sweet song of the nightingale, to
remind you that they're always there.
I Give To You
My lasting friendship, always true.
A gift of love to hold inside,
whenever you feel blue, or just
because you need a friend.
This friend, that will always
be there for you!
Author Unknown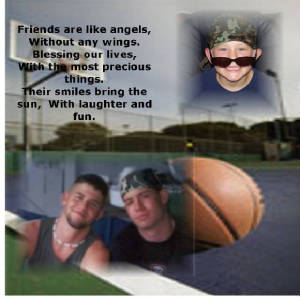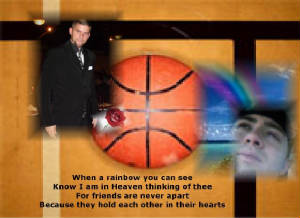 Never Forget
Your presence, is a present to the world.
You're unique and one of a kind.
Your life can be, what you want it to be.
Take the days, just one at a time.
Count your blessings, not your troubles.
You'll make it through, whatever comes along.
Within you, are so many answers.
Understand, have courage, be strong.
Don't put limits on yourself.
So many dreams, are waiting to be realized.
Decisions are too important, to leave to chance.
Reach for your peak, your goal and your prize.
Nothing wastes more energy, than worrying.
The longer one carries a problem, the heavier it gets.
Don't take things too seriously.
Live a life of serenity, not a life of regrets.
Remember, that a little love goes a long way.
Remember, that a lot goes forever.
Remember, that friendship is a wise investment.
Life's treasures, are people together.
Realize, that it's never too late.
Do ordinary things, in an extraordinary way.
Have health, hope and happiness.
Take the time, to wish upon a star.
And don't ever forget.
For even a day.
How very special you are!
Author Unknown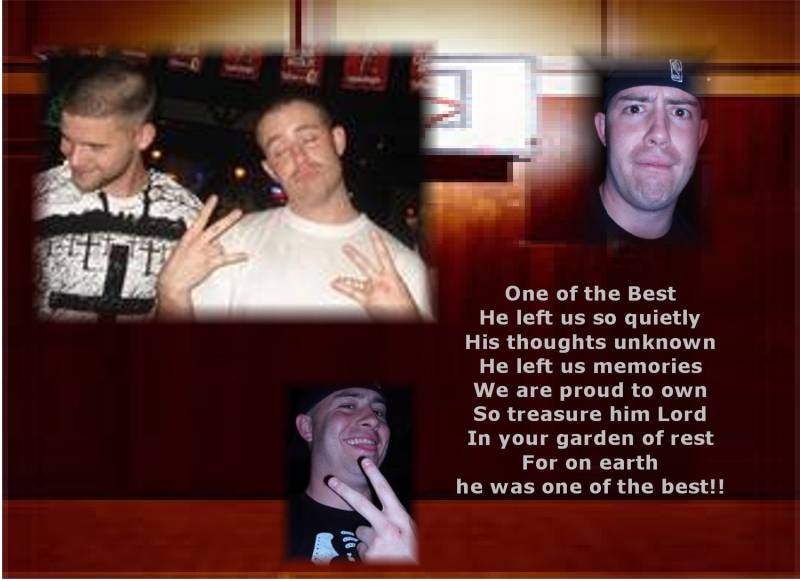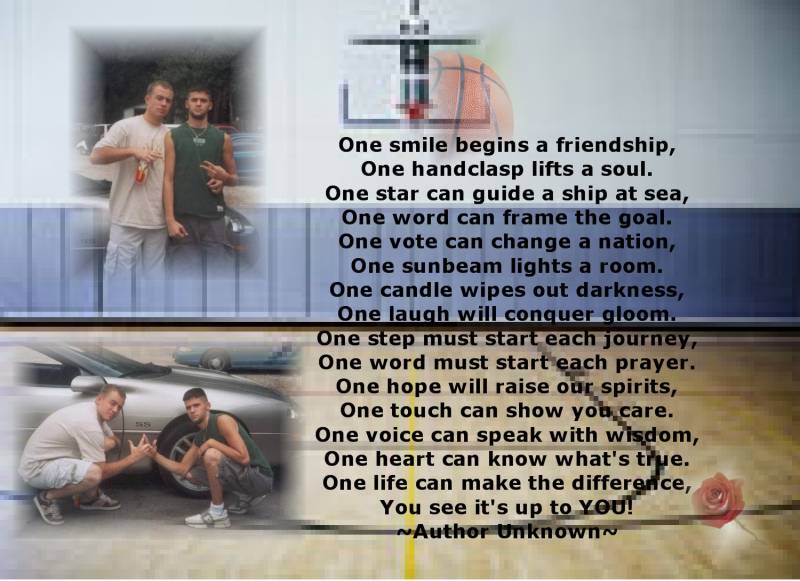 For Those In Doubt
Have confidence in yourself to do what you think is right.
Fear not what others might say.
Press ahead with determination and dignity.
Strive with all the energy you have.
Ignore criticism from those who cannot see.
Have the strength to pursue your vision.
And in the end you will achieve your goal.
For what is right will succeed.
It is then that others will learn from what
you have done, and make it all worthwhile.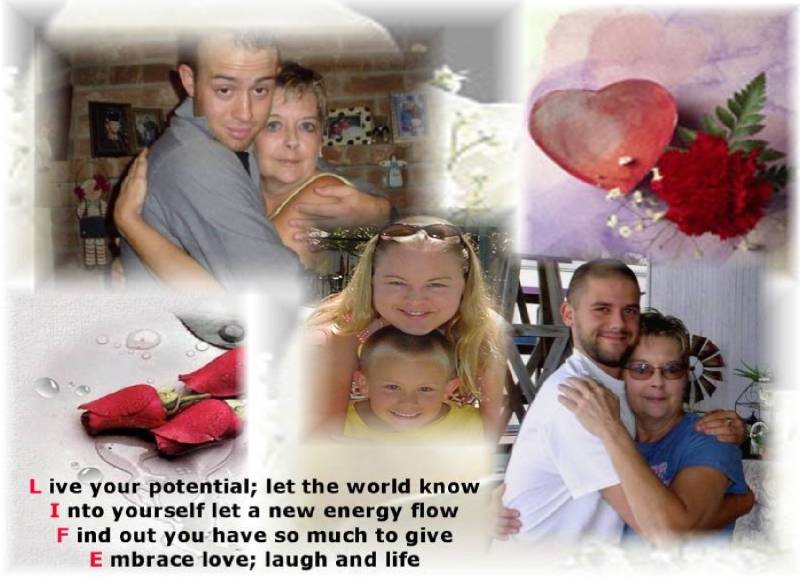 These are the people that I see Dustin through each time I see or speak to them. As I told Little Billy today 6-27-08 ya'll have nothing on my Tyler, He a little D already and Tiffany stronger that I ever thought she could be and I am so thankful she is my daughter and best friend. So my thanks to the 4 of you for helping me get through this journey! Love you all!
Seek beauty in attitude and outlook.
Create beauty in your own.
Love without condition, no strings
attached. Set your spirit free to soar.